Your Antibody Partner
Redox Oxydative Species(ROS) Signaling

Reactive oxygen species (ROS) include oxygen ions, free radicals, and peroxides, both inorganic and organic. They are highly
reactive due to the presence of unpaired electrons and can be very harmful to cell components. Damaged DNA, enzymes,
fatty acids, and cofactors cause destruction of the cell's normal functions.
ROSs form as a natural byproduct of the normal
metabolism of oxygen and have important roles in cell signaling. However, during times of environmental stress, ROS levels
can increase dramatically, which can result in significant damage to cell structures. Reactive oxygen species are implicated in
cellular activity to a variety of inflammatory responses including cardiovascular disease.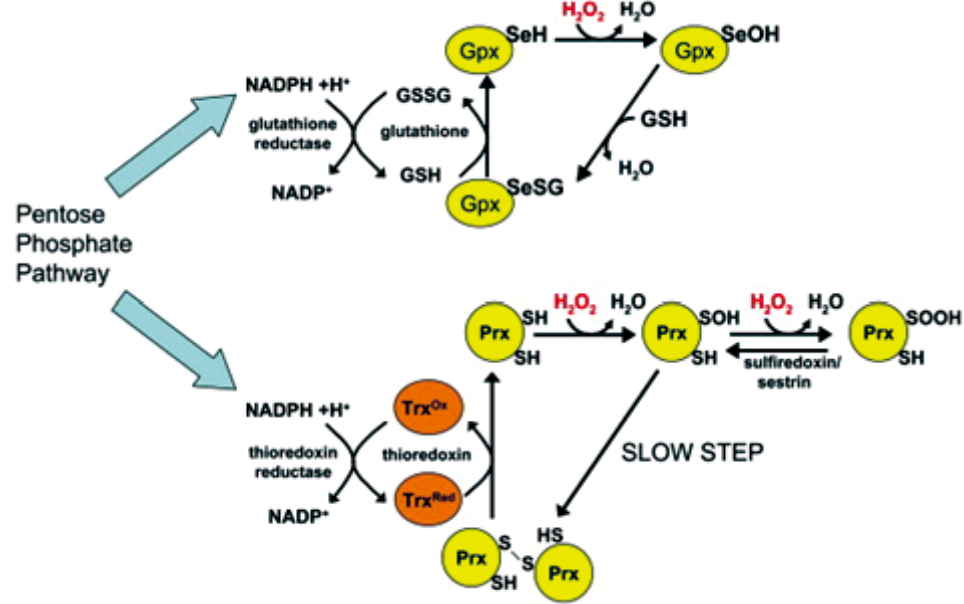 Hydrogen peroxide (H2O2) removing pathways by Gpx (Glutathione peroxidase) and Prx (Peroxiredoxin).
Abfrontier provides many antibodies related to ROS signaling including Prx series, Gpx series, SOD series etc.
Researchers studying redox biology, oxidative stress, aging, cardiovascular diseases, neuro-degenerative diseases, and
various cancer may need ROS signaling antibodies.


Best Selling Antibodies
Cat. # : LF-MA0042
anti-SOD4 (3A1)
Cat. # : LF-MA0033
anti-Ferredoxin Reductase (6C2)
Cat. # : LF-MA0044
anti-Peroxiredoxin 3 (12B)
Cat. # : LF-MA0055
anti-Thioredoxin 1 (3A1)
Cat. # : LF-MA0084
anti-MSRA (5B5)
Cat. # : LF-MA0121
anti-SOD3 (1H12)
Cat. #: LF-MA0144
anti-Peroxiredoxin 2 (1E8)
Cat. # : LF-PA0009
anti-Peroxiredoxin 4
Cat. # : LF-PA0010
anti-Peroxiredoxin 5
Cat. # : LF-PA0011
anti-Peroxiredoxin 4
Cat. # : LF-PA0013
anti-SOD1
Cat. # : LF-PA0017
anti-Glutaredoxin 1
Cat. # : LF-PA0055
anti-Glutathione Peroxidase 4
Cat. # : LF-PA0056
anti-Glutathione Reductase
LF-PA0060
anti-Catalase
LF-PA0031
anti-MSRA
LF-MA0069
anti-Prx1
LF-MA0071
anti-Prx2
LF-MA0045
anti-Prx3
LF-MA0104
anti-Prx4
LF-MA0029
anti-SOD1
LF-MA0020
anti-TR1

*All images of immunostaining kindly provided by The Swedish Human Protein Atlas (HPA) program

Product Name Catalog No. Clonality Host Species
Cross Reactivity Application

Anti-2-Cys Peroxiredoxin (6E5) LF-MA0073 mAb Ms Hu, Ms E, WB
Anti-Catalase LF-PA0060 pAb Rb Hu, Ms, Rt WB, IP
Anti-Catalase (11A1) LF-MA0010 mAb Ms Hu, Ms, Rt WB
Anti-Catalase (1A1) LF-MA0003 mAb Ms Hu, Ms, Rt E, IP
Anti-Catalase (2A1) LF-MA0004 mAb Ms Hu E, IP
Anti-Ferredoxin Reductase LF-PA0003 pAb Rb Hu, Ms, Rt WB, IP
Anti-Ferredoxin Reductase (6C2) LF-MA0033 mAb Ms Hu E, WB
Anti-Ferritin H-chain LF-PA0176 pAb Rb Hu, Ms WB
Anti-Glutaredoxin 1 LF-PA0017 pAb Rb Hu WB, IHC
Anti-Glutaredoxin 1 (28C3) LF-MA0072 mAb Ms Hu E, IP
Anti-Glutaredoxin 1 (30A1) LF-MA0082 mAb Ms Hu IP
Anti-Glutathione Peroxidase 1 LF-PA0087 pAb Rb Hu, Ms, Rt WB
Anti-Glutathione Peroxidase 1 (2A10) LF-MA0090 mAb Ms Hu IP
Anti-Glutathione Peroxidase 1 (42C9) LF-MA0091 mAb Ms Hu IP
Anti-Glutathione Peroxidase 1 (13B2AF) LF-MA0206 mAb Ms Hu, Ms, Rt E, WB, IP
Anti-Glutathione Peroxidase 3 (23B1) LF-MA0114 mAb Ms Hu WB
Anti-Glutathione Peroxidase 3 (55A) LF-MA0145 mAb Ms Hu E, IP
Anti-Glutathione Peroxidase 4 LF-PA0055 pAb Rb Hu, Ms, Rt WB, IHC
Anti-Glutathione Peroxidase 4 (1H11) LF-MA0085 mAb Ms Hu, Ms, Rt E, IP
Anti-Glutathione Peroxidase 4 (7A4) LF-MA0059 mAb Ms Hu E, IP
Anti-Glutathione Reductase LF-PA0056 pAb Rb Hu, Ms, Rt WB, IHC
Anti-Glutathione Reductase (1A7) LF-MA0036 mAb Ms Hu E, IP
Anti-Glutathione Reductase (2B3) LF-MA0024 mAb Ms Hu E, IP
Anti-Methionine Sulfoxide Reductase A LF-PA0031 pAb Rb Ms, Rt WB
Anti-Methionine Sulfoxide Reductase A (1C8) LF-MA0083 mAb Ms Hu, Ms IP
Anti-Methionine Sulfoxide Reductase A (5B5) LF-MA0084 mAb Ms Hu, Rt IP, IHC
Anti-Methionine Sulfoxide Reductase B LF-PA0088 pAb Rb Hu, Ms, Rt WB
Anti-MPO (Myeloperoxidase) LF-PA0052 pAb Rb Hu WB
Anti-MPO (Myeloperoxidase) (1A1) LF-MA0154 mAb Ms Hu E, IP
Anti-Peroxiredoxin 1 (13E7) LF-MA0069 mAb Ms Hu E, IP
Anti-Peroxiredoxin 1 (2A4) LF-MA0068 mAb Ms Hu, Rt IP
Anti-Peroxiredoxin 1 (9D2) LF-MA0031 mAb Ms Hu IP, ICC
Anti-Peroxiredoxin 1 LF-PA0095 pAb Rb Hu, Ms, Rt WB
Anti-Peroxiredoxin 1 (3G5) LF-MA0214 mAb Ms Hu E, WB, IP
Anti-Peroxiredoxin 2 (12B1) LF-MA0071 mAb Ms Hu, Ms, Rt E, IP
Anti-Peroxiredoxin 2 (9A1) LF-MA0070 mAb Ms Hu, Ms, Rt E, IP, ICC
Anti-Peroxiredoxin 2 LF-PA0091 pAb Rb Hu, Ms, Rt WB
Anti-Peroxiredoxin 2 (1E8) LF-MA0144 mAb Ms Hu, Ms, Rt E, WB, IHC
Anti-Peroxiredoxin 3 LF-PA0030 pAb Rb Hu, Ms, Rt WB, IP
Anti-Peroxiredoxin 3 (12B) LF-MA0044 mAb Ms Hu, Ms E, WB, ICC, IHC
Anti-Peroxiredoxin 3 (2B11) LF-MA0043 mAb Ms Hu, Ms, Rt E, IP
Anti-Peroxiredoxin 3 (4G10) LF-MA0045 mAb Ms Hu E, WB, IP
Anti-Peroxiredoxin 4 LF-PA0009 pAb Rb Hu, Ms WB, IP, IHC
Anti-Peroxiredoxin 4 (3A1) LF-MA0006 mAb Ms Hu IP, ICC
Anti-Peroxiredoxin 4 (7A1) LF-MA0014 mAb Ms Hu, Ms, Rt E, WB, IP
Anti-Peroxiredoxin 4(1A1) LF-MA0005 mAb Ms Hu IP
Anti-Peroxiredoxin 5 LF-PA0010 pAb Rb Hu, Ms, Rt WB, IHC
Anti-Peroxiredoxin 5 (12A) LF-MA0017 mAb Ms Hu, Ms, Rt E, WB
Anti-Peroxiredoxin 5 (3F11) LF-MA0002 mAb Ms Hu E, WB, IP, ICC
Anti-Peroxiredoxin 5 (4C3) LF-MA0001 mAb Ms Hu E, WB, IP
Anti-Peroxiredoxin 6 LF-PA0011 pAb Rb Hu Ms Rt WB, IP, IHC
Anti-Peroxiredoxin 6 (1A11) LF-MA0013 mAb Ms Hu E, WB, IP, ICC
Anti-Peroxiredoxin 6 (4A3) LF-MA0018 mAb Ms Hu, Ms, Rt E, WB
Anti-Peroxiredoxin 6 (5E1) LF-MA0067 mAb Ms Hu E, IP
Anti-Peroxiredoxin 6 (6H5) LF-MA0104 mAb Ms Hu E, IP
Anti-Selenoprotein M (10C1) LF-MA0058 mAb Ms - E, WB, IP
Antibody List for ROS signaling
Antibody List for ROS signaling
Product Name Catalog No. Size
Glutaredoxin 1 (Human) LF-P0003 0.1mg(1mg/ml)
Glutaredoxin 2 (Human) LF-P0016 0.1mg(1mg/ml)
Glutathione Peroxidase 4 (Human) LF-P0015 0.5mg
Glutathione Reductase (Human) LF-P0024 0.5mg
Glutathione Reductase (Yeast) LF-P0071 0.5mg(1mg/ml)
Methionine Sulfoxide Reductase A (Human) LF-P0022 0.1mg(1mg/ml)
Methionine Sulfoxide Reductase B (mutant: Selcys95cys) (Human) LF-P0012 0.5mg
Peroxiredoxin 1 (Human) LF-P0002 0.25mg(1mg/ml)
Peroxiredoxin 2 (Human) LF-P0007 0.2mg(1mg/ml)
Peroxiredoxin 3 (Human, W/O MLS) LF-P0023 0.25mg(1mg/ml)
Peroxiredoxin 3 (Mouse, W/O MLS) LF-P0005 0.5mg(1mg/ml)
Peroxiredoxin 4 (Human, W/O SLS) LF-P0058 0.5mg
Peroxiredoxin 5 (Mouse, W/O MLS) LF-P0014 0.5mg
Peroxiredoxin 6 (Human) LF-P0004 0.5mg
Superoxide Dismutase 1 (Human) LF-P0010 0.5mg
Superoxide Dismutase 2 (Human) LF-P0013 0.5mg(1mg/ml)
Superoxide Dismutase 4 (Human) LF-P0020 0.5mg
Thioredoxin 1 LF-P0001 0.5mg(1mg/ml)
Thioredoxin 1 (Yeast) LF-P0036 0.5mg
Thioredoxin 2 (Human, W/O MLS) LF-P0006 0.5mg(1mg/ml)
Thioredoxin 2 (Yeast) LF-P0052 0.5mg(1mg/ml)
Thioredoxin Reductase 1 (Human) LF-P0021 0.5mg
Thioredoxin Reductase 1 (Yeast) LF-P0009 0.5mg
Thioredoxin Reductase 2 (Human) LF-P0019 0.5mg
Product Name Catalog No. Clonality Host Species
Cross Reactivity Application
Anti-Selenoprotein M (4C2) LF-MA0057 mAb Ms - E, WB, IP
Anti-Superoxide Dismutase 1 LF-PA0013 pAb Rb Hu, Ms, Rt WB, IP, IHC
Anti-Superoxide Dismutase 1 (72B1) LF-MA0023 mAb Ms Hu IP
Anti-Superoxide Dismutase 1 (8A1) LF-MA0029 mAb Ms Hu IP
Anti-Superoxide Dismutase 2 LF-PA0021 pAb Rb Hu, Ms, Rt WB, IP
Anti-Superoxide Dismutase 2 (1E8) LF-MA0035 mAb Ms Hu IP
Anti-Superoxide Dismutase 2 (23G5) LF-MA0066 mAb Ms Hu IP
Anti-Superoxide Dismutase 2 (2A1) LF-MA0030 mAb Ms Hu, Ms, Rt E, WB
Anti-Superoxide Dismutase 2 (4F10) LF-MA0065 mAb Ms Hu IP
Anti-Superoxide Dismutase 3 (1H12) LF-MA0121 mAb Ms Hu E, WB, IP, IHC
Anti-Superoxide Dismutase 4 LF-PA0022 pAb Rb Hu, Ms, Rt WB, IP
Anti-Superoxide Dismutase 4 (11G1) LF-MA0019 mAb Ms Hu E, WB
Anti-Superoxide Dismutase 4 (2A1) LF-MA0016 mAb Ms Hu E, IP
Anti-Superoxide Dismutase 4 (3A1) LF-MA0042 mAb Ms Hu E, WB, IP, IHC
Anti-Thioredoxin 1 (3A1) LF-MA0055 mAb Ms Hu E, WB, IP, IHC
Anti-Thioredoxin 1 (8A1) LF-MA0077 mAb Ms Hu E, IP
Anti-Thioredoxin 2 LF-PA0012 pAb Rb Hu, Ms WB
Anti-Thioredoxin 2 (4C5) LF-MA0079 mAb Ms Hu, Ms, Rt IP
Anti-Thioredoxin 2 (71G4) LF-MA0080 mAb Ms Hu, Ms, Rt IP
Anti-Thioredoxin Reductase 1 LF-PA0023 pAb Rb Hu WB
Anti-Thioredoxin Reductase 1 (19A1) LF-MA0015 mAb Ms Hu E, WB, IP
Anti-Thioredoxin Reductase 1 (5A5) LF-MA0020 mAb Ms Hu E, IP
Anti-Thioredoxin Reductase 2 LF-PA0024 pAb Rb Hu, Ms, Rt WB
Anti-Thioredoxin Reductase 2 (25B3) LF-MA0054 mAb Ms Hu E, IP
Anti-Thioredoxin Reductase 2 (7B2) LF-MA0025 mAb Ms Hu IP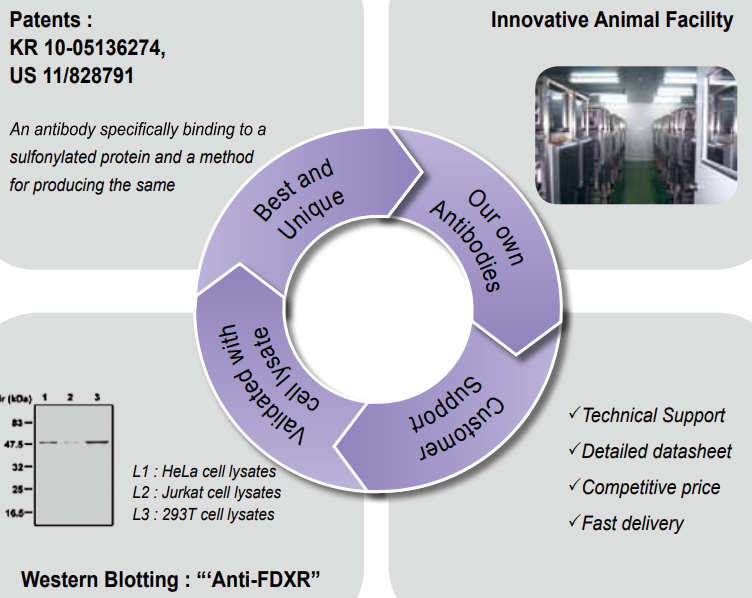 Protein List for ROS signaling
Your Antibody Partner, Abfrontier
Best and
Unique

Antibodies
Patents :
KR 10-05136274,
US 11/828791

sulfonylated protein and a method
for producing the same
Innovative Animal Facility
L1 : HeLa cell lysates
L2 : Jurkat cell lysates
L3 : 293T cell lysates
Western Blotting : "'Anti-FDXR"
Technical Support
Detailed datasheet
Competitive price
Fast delivery